.


.

Continued from product description on Classic Toys & Puzzles' Page One...

Historical Background: The Buzz Saw is one of the most popular noisemakers of all times! Native Americans made "buzzers" from a circular piece of bone or antler and used sinew instead of string. Colonial children played with buzz saws. This type of noisemaker was also known as "button on a string" during the Victorian Period and later. A very large button from a mother's sewing basket could be strung for this toy. Coins, bamboo, stones, and seashells have also been used to make this toy. Tin was even used, and teeth were cut around the circumference so that the disc would shred a piece of paper when the two came in contact. Made this way, it resembles a circular saw blade, and this is where it got the name Buzz Saw. Other names for the Buzz Saw are Whizzer, Whiligig, Whirligig, Moonwinder, and Skyewinder.
Would you like to return to the previous page or go to the next product description?
The above info is copyrighted by Historical Folk Toys, LLC and has been properly registered with the U.S. Copyright Office.
All rights reserved. Any reprint or reuse -- in any form or by any means -- is strictly prohibited without our written permission.
.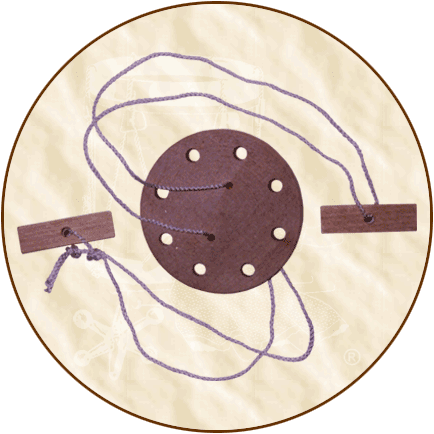 .
Unauthorized use is strictly prohibited. No part of this Web site may be published, stored or transmitted -- in any form or by any means
-- without written permission from Julie at Historical Folk Toys, LLC. Copyright violation may result in costly fines for you or your
organization. Getting permission is easy. Getting out of legal trouble is not! Please take a few minutes to read about copyrights &
how they apply to you and the material you find on the Internet: U.S. Copyright Office and "10 Copyright Myths Explained."