.


.

Continued from product description on Classic Toys & Puzzles' Page Three...

Historical Background: Toss toys date back to ancient Greece. The Cup and Ball Toss Toy was played with in Colonial America and is mentioned in an 1834 publication for girls. It is similar to, but much easier than the Bilboquet, which has the ball landing on a pointed stick instead of inside a cup. See if you can catch the ball with the cup. Play with others and see who can score the majority of points by catching the ball the most. Do not let this toy fool you; it takes good hand dexterity to score. This simple toy is one of the most popular in our Classic Toys & Puzzles collection.
Would you like to return to the previous page or go to the next product description?
The above info is copyrighted by Historical Folk Toys, LLC and has been properly registered with the U.S. Copyright Office.
All rights reserved. Any reprint or reuse -- in any form or by any means -- is strictly prohibited without our written permission.
.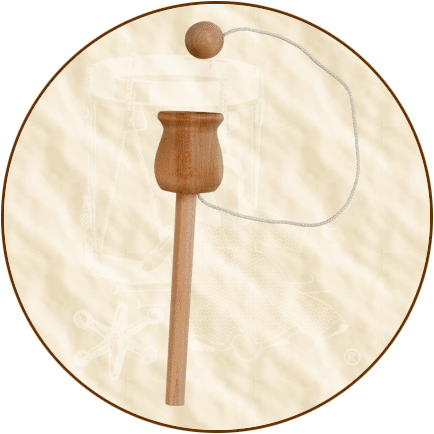 .
Unauthorized use is strictly prohibited. No part of this Web site may be published, stored or transmitted -- in any form or by any means
-- without written permission from Julie at Historical Folk Toys, LLC. Copyright violation may result in costly fines for you or your
organization. Getting permission is easy. Getting out of legal trouble is not! Please take a few minutes to read about copyrights &
how they apply to you and the material you find on the Internet: U.S. Copyright Office and "10 Copyright Myths Explained."