.
.

Holiday Elves 2008: This was the gathering for last year's holiday breakfast. From left to right: Ramona, Wayne, Donna, Bob, Maryann, Anna, Míc, Kristina, Julie, Julia, Theresa, and John.
.
.

Mike the
Wood Elf

Jennifer Elf
and Cocoa
.
.

Kristina Elf

Ramona Elf
.
.

Maryann Elf

Theresa Elf
.
.

Holiday Elves 2004: This group picture was taken as a surprise gift for our Head Elf, Julie (which is why she is not pictured here). Pictured are Miriam (top left), Maggi (top right), Míc (center), Joanie (lower left) and Jeanne (lower right). And no, we do not wear these all the time.
.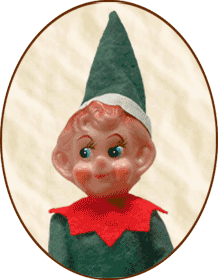 .
and Loren Elf (our mascot)
.

.
Unauthorized use is strictly prohibited. No part of this Web site may be published, stored or transmitted -- in any form or by any means
-- without written permission from Julie at Historical Folk Toys, LLC. Copyright violation may result in costly fines for you or your
organization. Getting permission is easy. Getting out of legal trouble is not! Please take a few minutes to read about copyrights &
how they apply to you and the material you find on the Internet: U.S. Copyright Office and "10 Copyright Myths Explained."